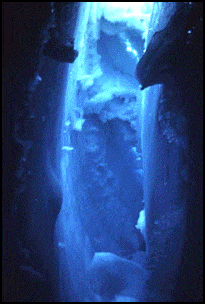 A crevasse is a crack in the surface of a glacier caused by extensive stress within the ice. For example, extensive stress can be caused by stretching if the glacier is speeding up as it flows down the valley. Crevasses can also be caused by the ice flowing over bumps or steps in the bedrock.
By descending into a crevasse, scientists can observe the layers of snow from past years or, deeper down, the ice crystals of the glacier.
Crevasses can be small, but many are quite large. Most are squeezed shut by the pressure of the ice below about 30 m (100 ft.). Crevasses are like windows into a glacier.
| Crevasse Type | Description |
| --- | --- |
| Bergschrunds | Form at the beginning of the glacier where the glacier pulls away from the rock wall at its head. |
| Longitudinal or splay crevasses | Form in the direction of a glacier flow, and where ice slowly spreads out sideways to cover a larger area. Commonly found near the terminus of glaciers (glacier termini). |
| Marginal or shear crevasses | Form near the side. Marginal crevasses are caused by shear between the valley wall and the glacier. They form a herring- bone pattern, pointing about 45° up-glacier from the valley wall. |
| Transverse crevasses | Form across a glacier in a region where the speed is increasing, which causes stretching (tensile stress) in the direction of glacier flow. They fan across the glacier. They are common in the accumulation zone and near steepening slopes, such as an ice fall. |
| Radial crevasses | Form where a glacier turns a corner. The ice on the outside of the bend has to travel faster than the ice on the inside corner. This tension pulls the ice farther out from the corner, creating crevasses which radiate out from the inside wall. |
Vocabulary Plus!
crevasse
bergschrund
longitudinal
marginal
transverse
radial
terminus
shear
accumulation zone
Review Questions
(some of the answers may come from the vocabulary list)
What can cause a crevasse?
Why don't crevasses reach to the very bottom of the glacier?
Where is the most common place on a glacier to find longitudinal or splay crevasses?
What causes marginal crevasses?
In a deep crevasse, can scientists see the ice crystals of a glacier? Yes or No?
Why do scientists go down into crevasses: to observe the layers of snow or to test their bravery?
Transverse crevasses form across a glacier where the speed is 
(pick one) increasing or decreasing.
Radial crevasses form where a glacier turns a corner. True or False?
In which zone of a glacier are transverse crevasses most common?
Brain Challenge!
What would you do if you ever fell into a crevasse while climbing on a glacier?
Exercise: Word Scramble – Types of Crevasses
1. DSUNRCHGBER

Forms at the beginning of the glacier where the glacier pulls away from the rock wall at its head.

2. LRDAIA

They form where a glacier turns a corner. The ice on the outside of the bend has to travel faster than the ice on the inside corner.

3. VSERESNRAT

Forms across a glacier in a region where the speed is increasing, which causes stretching in the direction of glacier flow.

4. LLNGOUTIDINA

Forms in the direction of glacier flow; where ice slowly spreads out sideways to cover a larger area.

Project: Silly Putty® Cigars

Silly Putty® can be a lot of fun. Roll some into a cigar shape to make it look like a glacier. Pull it apart quickly and watch how it might fracture or break apart. This is like ice. When ice moves quickly, it fractures and breaks.

Ball it up and roll another cigar. This time, put it in a freezer for an hour or two. Now try to pull it apart. It breaks easily! This is like ice in polar or subpolar glaciers where crevasses can be deeper than those in the ice of temperate glaciers.

(Courtesy of Glaciers of North America, By S. Ferguson)