Sentinel-1A and Sentinel-1B satellites carry C-band SAR instruments to provide an all-weather, day-and-night supply of imagery of Earth's entire surface every 6 days.
Add a header to begin generating the table of contents
Launches:
Sentinel-1B: Soyuz rocket, launched 25 April 2016, from Kourou, French Guiana
Sentinel-1A: Soyuz rocket, launched 3 April 2014, from Kourou, French Guiana
Orbit: Polar, sun-synchronous at an altitude of 693 km
Revisit time: Six days with two-satellite constellation of Sentinel-1A and 1B. Before 1B launched, revisit time for Sentinel-1A alone was 12 days.
Instrument: C-band synthetic aperture radar (SAR) at 5.405 GHz
Operational Modes
Interferometric wide-swath (IW) at 250 km and 5×20 m resolution, using TOPSAR
Wave (WV) images of 20×20 km and 5×5 m resolution (at 100 km intervals)
Stripmap (SM) at 80 km swath and 5×5 m resolution
Extra wide swath (EW) of 400 km and 20×40 m resolution, using TOPSAR
Polarization
Supports operation in single polarization (HH or VV) and dual polarization (HH+HV or VV+VH)
Polarization implemented through one transmit chain (switchable to H or V) and two parallel receive chains for H and V polarization
SM, IW and EW are available in single (HH or VV) or dual polarization (HH+HV or VV+VH)
WV is single polarization only (HH or VV)
Receiving stations: SAR data: Svalbard, Norway; Matera, Italy; Maspalomas, Spain; and via laser link through EDRS (European Data Relay System)
Telemetry, tracking and command: via Kiruna, Sweden
Main applications: Monitoring sea ice, oil spills, marine winds and waves, land-use change, land deformation, and to respond to emergencies such as floods and earthquakes
Mission: Developed, operated, and managed by various ESA establishments
Life: Minimum of seven years
Satellites: 2.8 m long, 2.5 m wide, 4 m high with 2×10 m-long solar arrays and a 12 m-long radar antenna
Mass: 2300 kg (including 130 kg fuel)
Funding: ESA Member States and the European Union Prime contractors: Thales Alenia Space, Italy, for the satellite; Airbus Defence and Space, Germany, for the SAR instrument
Content on ASF's Sentinel web pages is adapted from the European Space Agency (ESA) Sentinel website.
Links in the table below open to ESA's website for more information.

| SAR Mode | Stripmap (SM) | Interferometric Wide Swath (IW) | Extra Wide Swath (EW) | Wave (WV) |
| --- | --- | --- | --- | --- |
| Details | Used in rare circumstances to support emergency-management services, 5m-x-5m resolution over an 80km swath width. | Acquired with TOPSAR. Default mode over land; 250km swath width; 5m-x-20m ground resolution. | Acquired with TOPSAR using 5 sub-swaths instead of 3, resulting in lower resolution (20m-x-40m). Intended for maritime, ice, and polar-zone services requiring wide coverage and short revisit times. | Default mode over oceans; VV polarization. Data acquired in 20km-x-20km vignettes, 5m-x-20m resolution, every 100km along the orbit. |
Image Quality
Users of Sentinel data may see quality issues similar to those below. Users are encouraged to submit examples of image-quality issues to [email protected].
Browse images affected by map projection
When an image granule is located above 65° latitude, the browse image can appear to be oriented and shaped differently than its outline in Vertex. The browse image is a geocoded JPEG displayed in a polar stereo map projection at latitudes above 65° in either hemisphere. The Vertex map always displays a granule in a Mercator projection. The examples show a Vertex map outline of a granule in the Arctic Ocean and an associated browse image. The browse image also is an example of stepped ends.
Images from data close to the noise floor
Images that contain a great deal of noise have often been processed close to the noise floor (the data closest to the point where it is too noisy to be useful). The noise can look like repeating lines across an image, something like horizontal window blinds, as in the left image below. Those repeating lines are not the same as the bright spots in these images, which appear in the image below and to the right as a line of repeated bright spots or bursts. Those bright bursts are image anomalies that are not yet well understood. Also visible in these images are beam seams (see the next section).
Beam seams
When one image is made up of several beams, the seams can show, particularly in dark data. Beam seams are visible in many of the images on this page, including the one to the right.
Offsets between channels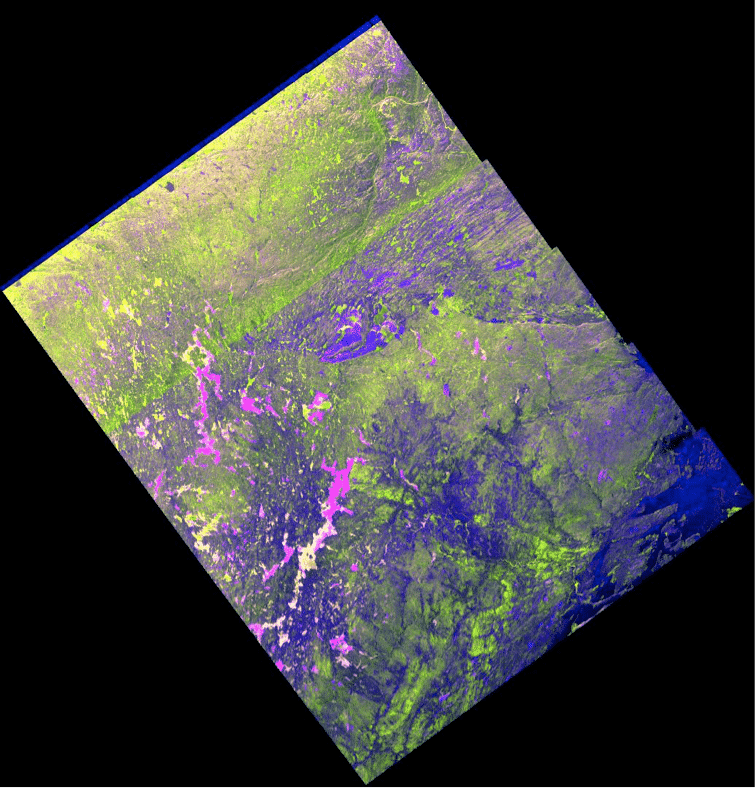 Beams that seem to have noisy or missing data at one end, such as the dark blue edge at the top of the image, have been processed in one channel more than another (such as the HV or VH channels).
Stepped edges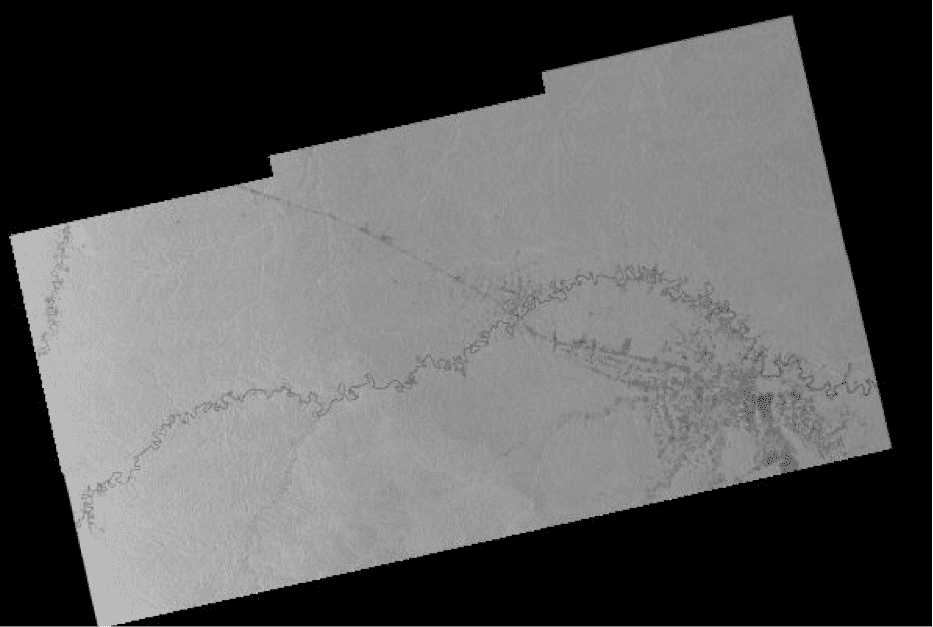 Stepped ends, as in this image, are an artifact of the multi-beam scanning technology of TOPSAR and the way that ESA "slices" a data take into discrete, manageable units.
Bright burst
Bright bursts are processing anomalies that are not well understood. Bright bursts are in the upper left corner of the image below at left and in the light stripe across the image below right. Also visible in the image on the left are noise (window-blind effect), beam seams, and a bit of blue on the far left that may indicate an offset between channels.
Sentinel-1 Tools
| Name | Description |
| --- | --- |
| Sentinel-1 Toolbox (S1TBX) | Processing tools, data product readers and writers, and a display and analysis application to support the large archive of data from ESA SAR missions, including Sentinel-1, ERS-1 and -2, and Envisat, as well as third-party SAR data from ALOS PALSAR, TerraSAR-X, COSMO-SkyMed and RADARSAT-2. |
| ESA Sentinel App, for iOS and Android. | Powerful visualization of Sentinel product availability. Track the satellites in real time over a 3D globe, see the last and next time they have been and will be over the user's location, and more. |
| PolSARpro | The Polarimetric SAR Data Processing and Educational Tool facilitates the accessibility and exploitation of multi-polarised SAR datasets. A wide range of tutorials and comprehensive documentation provides a grounding in polarimetry and polarimetric interferometry necessary to stimulate research and development of scientific applications; the toolbox of processing functions offers users the capability to implement them. |
| Other Tools | Other tools include a basic radar altimetry toolbox (BRAT), a data browser capable of exploring many product types in their native form (Derby), and more. |